Description
ADVANCED RELAXATION
This very special spa is designed to provide the Absolute Best Hot Tub Ownership Experience® in a small package. As a part of the Highlife Collection, the Jetsetter NXT offers the ultimate in energy-efficiency, and is available with the ACE salt water system. Plus, this deeper version of the Highlife Collection Jetsetter offers more jets, more power, and includes the added convenience of the wireless remote control and dishwasher safe Tri-X® filters.
In addition to the unparalleled performance you can count on from the Highlife Collection, the NXT models offer these value-added and innovative
Exclusive Wireless Remote Control
For added convenience the Highlife Collection Grandee and Envoy models feature our unique wireless remote control with touchscreen technology.
The most advanced control panel available, it features a full color screen with large icons and intuitive menus that make it easy to adjust spa functions.
Remove the remote from the bartop charging dock and carry into the spa to adjust jets, lighting and even music from your favorite seat, then set the panel in the secondary bartop resting station while you relax.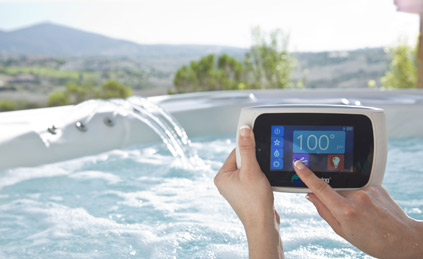 Seating Capacity

3 Adults

Dimensions
Water Capacity
Weight
Lighting System
Entertainment Systems (Optional)

Wireless Sound System w/ Bluetooth® technology

Jet Count

22

Hot Tub Jets

1 Moto-Massage® DX jet (2)

2 Rotary Hydromassage jets

1 Directional Hydromassage jets

12 Directional Precision® jets

Control System

230v/10amp
50Hz
IQ 2020®
Wireless remote control
Includes G.F.C.I. protected sub-panel

Heater

1500w/230v
Titanium No-Fault®

Jet Pump 1

One-speed
Wavemaster® 9000
2.5 HP Continuous Duty
5.2 HP Breakdown Torque

Circulation Pump - 24/7

39w (1/20 HP) SilentFlo 5000®

Ozone System

FreshWater® III Corona Discharge

Water Care Options

ACE® Salt Water Sanitizing System
EverFresh® System

Effective Filtration Area

195 sq. ft.

Vinyl Cover Colors

Caramel
Evergreen
Slate
Chocolate

Vinyl Cover Options

3.5" to 2.5" tapered
1.5 density foam core

Cover Lifters (Optional)

CoverCradle II®
CoverCradle®
Lift 'n Glide®
UpRite®
* Includes water and 6 adults weighing 175 lbs. each
Export models available in 230v, 50 Hz, 1500w Heater

ENERGY EFFICIENCY
Highlife Collection spas offer our very best in efficiency and energy saving design – which is why we call these models Super Energy Efficient. This is just one of the ways a Highlife Collection spa delivers the best value over time.
SAVING YOU MONEY
Highlife Collection models feature our complete Energy Smart® system. Every aspect of the spa has been optimized to create heat efficiently and maximize heat retention.
Totally insulated with multiple layers of foam filling the entire spa cabinet cavity to lock in heat
SilentFlo 5000® circulation pump that uses less energy than a 40 watt light bulb to filter the water 24/7 silently
Custom-designed spa covers with an exclusive hinge seal to lock in heat
Our No-Fault® heater that maximizes heat transfer and is covered by an unconditional 5-year warranty made from Titanium to prevent corrosion
A pump shroud captures heat from the equipment compartment and transfers it to the water
SmartJet® system lets you direct power only to the jet groups you want to use
Accessories
Warranty Information
7 Years Shell, 5 Year Electrical Component Warranty.